KAZUKI YAMANE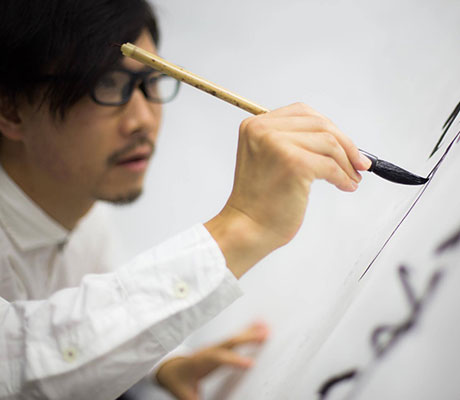 Born in 1982, Kazuki spent his child life in Hagi City of Yamaguchi prefecture, which is located in the southern part of Japan. He was apprenticed to Ogura Soken at an early age to learn the basics of Japanese calligraphy. He continues to purse the art by majoring in Calligraphy at Hanazono University. Soon after he graduated, he studied aboard in Australia to experience a different culture and also to spread the culture of calligraphy.
His career started as he worked for restaurants and shops to design signboards and menus as well as performing "live paint". He also worked for movies and TV dramas as a copyist from 2006. Five years later, he works exclusively for Toei Movie Production in Kyoto, which is famous for creating programs themed with Japanese history.
Having an open mind and mixing from different genres is Kazuki's core definition of artistic activities. He now belongs to a theatrical company and works as a producer for theatrical drama, as well as live calligraphy performance. I perform the activity of the calligraphy workshop for foreign tourists energetically now as well as my country.
His goal is to meet different people and ideas thru the art of "Calligraphy" to create a work that appeals not just to our eyes, but our five senses.
Thank you